Correction Bark Collar automatically sets itself at the most effective level
Bark Bark Recognition and advanced correction technology ensure less error corrections
Bark Correction requires no installation and works immediately
Bark odometer measures the number of times a dog barks
Suitable for all breeds and coat thickness
Sleek design, rechargeable, lithium-ion battery (up to 3 months of use when fully charged)

Garmin Deluxe Bark Limiter, with proven Tri-Tronics® dog training technology, is the world's first intuitive electronic bark correction device. It uses bark identification based on an accelerometer to distinguish between bark and other types of sounds.
It is compact and lightweight, and features a replaceable CR2 battery (up to 10 months of battery life). Even with integrated steel contacts – optimized to work with all kinds of dogs and coat types. Bark Limiter Deluxe has one of the most compact designs on the market, and is out of the box ready to use.
Bark technology award
The Bark Limiter Deluxe detects bark signals based on vibrations from the throat of the dog. This prevents erroneous correction due to scratching or scraping surfaces, or other sounds like the barking of other dogs in the neighborhood (as in kennels). In addition, the Bark Limiter Deluxe is designed to distinguish different types of barking, it corrects obsessive and annoying barking but ignores barking "good". This ensures that the dog is able to communicate in case of danger or injury without the machine is activated.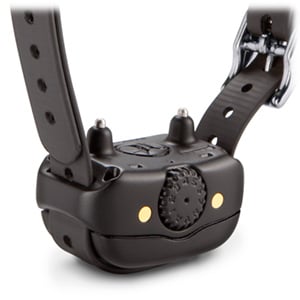 Authorizing Technology
Bark Limiter is from the package automatically set to Auto Rise. Authorizing starts at the lowest level of correction and gradually unscrew the stand to prevent unwanted barking without further increasing the correction strength.This gives direct reduction of nuisance barking.
You can also switch between automatic and manual settings. The built Bark Odometer ™ helps determine the effectiveness of the manual correction level, barking by counting the number when you are away.
vibration Settings
You have the option to set in Bark Limiter to correct only barking by the application of vibration, as an alternative to stimulation.