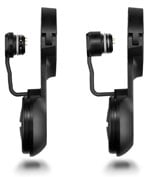 Don't let pedal issues keep you from training. Replace your pedal pods individually or together – and on either pedal, left or right.
With additional crank arm clearance (thickness and width), Vector 2 and 2S fits almost any bike. The standard pedal pod fits crank arms 12-15 mm in thickness and 44 mm in width. The large pedal pod fits crank arms 15-18 mm in thickness and up to 44 mm in width.
The pedal pods include an LED light to display important setup and maintenance information.
*Replacing a pedal pod does not impact Vector 2/2S power or cadence accuracy.
Vector 2/2S pedal pods should not be ordered for Vector or Vector S systems. In order to upgrade your existing Vector or Vector S system, please order the Vector to Vector 2 upgrade kit or Vector S to Vector 2S upgrade kit.