5-inch Fishfinder with GPS, ice fishing pointer and Quickdraw Contours mapping software
Bright 5-inch fishfinder that is readable in sunlight with built-in GPS, ice fishing pointer and support for ClearVü echo sounder with scanning technology
Includes Garmin CHIRP ice fishing pointer in the high, wide band for sharp, clear arcs and excellent object separation
With the built-in Garmin Quickdraw ™ Contours mapping software, you can create and store maps with footer contours for up to 800,000 hectares
With built-in flashes you can see your drag or weighted bait and depth for the fish as it swims in the echo sounder beam
Portable bag for device, cables and battery for a successful day on the ice
5-inch STRIKER ™ Plus 5 ice fishing package with ClearVü echo sounder with scanning technology and an ice fishing pointer for sharp, clear arcs and excellent object separation. With built-in GPS and Quickdraw Contours, you can search and select your favorite location and come back later. Rechargeable battery, charger, tiltable / swivel mount, foam padding and a portable bag for everything.
Experience the sharpness of CHIRP
This sensor is designed for ice fishing. CHIRP sends a continuous swipe of frequencies, from low to high, instead of sending just one. When the frequencies are returned, CHIRP interprets them individually, collecting a broader range of information for crisp, clear elbows and excellent object separation. The wide spread angle of 16-24 degrees covers a large surface in the water, so you know what's going on.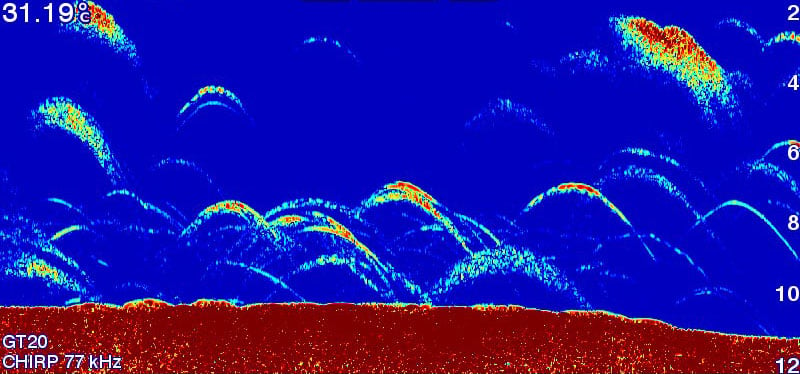 Garmin Quickdraw Contours
Nobody knows the waters you fish in better than you and your fishmates. While deeper, the Quickdraw Contours HD Fishing Chart mapping software creates the places you visited. No special skills are required. Now you can store up to 800,000 hectares of your Quickdraw Contours maps with one foot contours.

Fish vertically with built-in real-time image
STRIKER has both a fishfinder and a real-time image, all in one device. When you stand still and fish, for example, for ice fishing or when you pimp fish after perch, the built-in real-time picture shows drag or weight, and the depth of the fish as it swings into the echo sounder beam. You can also see how high the drag is lifted or lowered and if fish moves towards it or away from it.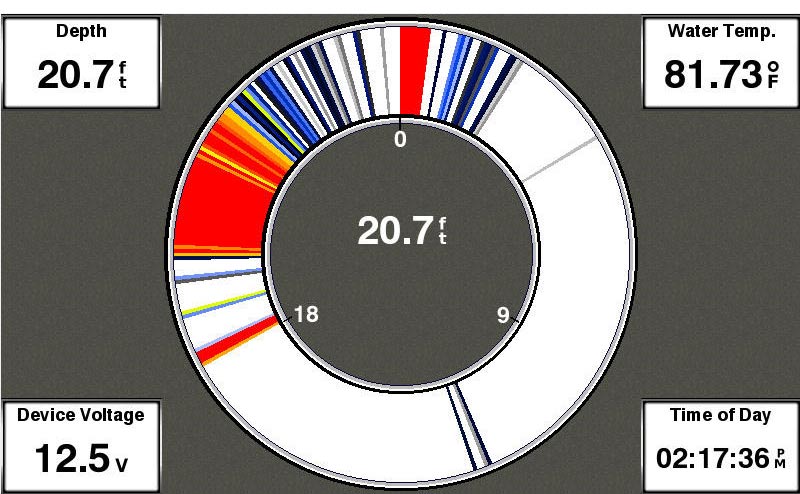 Fishfinder with GPS
The built-in, high-sensitivity GPS allows you to tag waypoints for different locations. So if the fish punches in one place, you can mark it and go back there on the next trip. It is also a great tool for finding back to your most rewarding fishing spots.
Built for you
STRIKER ™ Plus 5 fishfinder makes fishing easy as a spot, and it is built to work in all environments. The bright screen that is readable in sunlight gives you a clear picture of what's on the ice, even the brightest days. And the big screen gives you a better overview of what's going on under the ice. The intuitive user interface makes it easy to navigate to whatever feature you need, so you're ready for anything.
Add Garmin ClearVü echo sounder with scanning technology
When you fish during the hot season, you add CHIRP ClearVü echo sensor functions with scanning technology to your STRIKER 5 ice fishing kit. For CHIRP ClearVü echo sounder with scanning technology, optionally add Garmin GT20 traditional CHIRP echo sounder and CHIRP ClearVü echo sounder with scanning technology (sold separately). For high performance CHIRP you can buy a GT22 or GT23 (sold separately).