Bring What You Love About Amazon Alexa to Your Vehicle
Use your smartphone's data and connect via Bluetooth® or AUX³ to enable audio to stream through your vehicle's speakers
When paired to the app, the Garmin Speak device lets you stream music through your vehicle's stereo, check weather, even listen to news and traffic
In the app, type in specific addresses or the name of a hard-to-pronounce place, then select "Go" to easily send the location to your Garmin Speak device
Adjust routing preferences to avoid things like toll roads or unpaved roads
Manage your saved locations including home, school and work
If you own the Garmin Speak device¹, you'll want to download the free Garmin Speak app to your Bluetooth-enabled smartphone². Then, use your smartphone's data and connect via Bluetooth or AUX³ to enable Amazon Alexa to stream audio through your vehicle's speakers. With the Garmin Speak app running in the background on your smartphone, you can stream music playlists and podcasts, play audiobooks, check the weather, and listen to news, sports stats or traffic updates — all while keeping your hands on the wheel and your smartphone stowed away.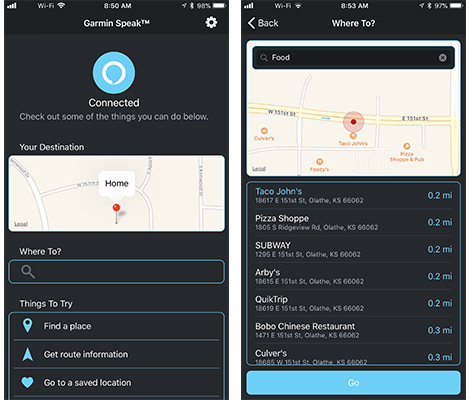 The Garmin Speak app offers some additional functionality you may find helpful when using the device for navigation. When using Garmin Speak to navigate, drivers can simply say, "Alexa, ask Garmin…". However, if you are asking for directions to places that may be extra difficult to pronounce, or you want the device to find a specific address, you may simply type in the name of the point of interest, or specific address, using the Garmin Speak app. If you are searching for a place within your app and you identify where you want a go, you may select "Go" to easily send the point of interest information to your Garmin Speak. There are other helpful tools in the app, such as routing settings that allow users to avoid things like toll roads or unpaved roads. Additionally, the Garmin Speak app lets you manage your saved locations, including home, school, and work.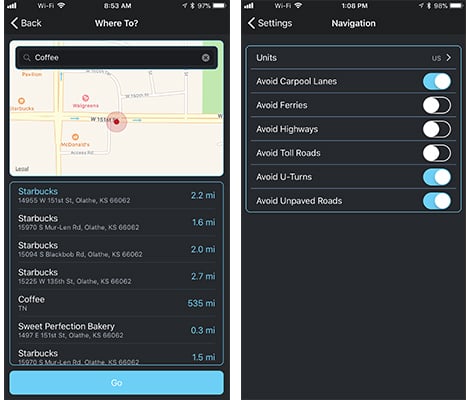 ¹Drivers should focus on driving and only use this device when safe to do so.
²View compability
³AUX cable not included
Amazon, Alexa, and all related logos and motion marks are trademarks of Amazon.com, Inc. or its affiliates. The Bluetooth word mark and logos are registered trademarks owned by Bluetooth SIG, Inc. and any use of such marks by Garmin is under license.