Dog Activity Tracking¹ and Training App for Use with Delta Smart™ Dog Device
Monitor your pet's activity during the day, including physical activity and time spent barking
Use your compatible smartphone² as a training remote
View training and monitoring event details to help judge effectiveness
Expand training capability with Keep Away Tags, and monitor when your dog is near them
Manage multiple dogs' collars with individual profiles and training settings

Dogs are part of the family, and you want them to be well behaved so they have a healthy and happy life. Garmin Canine, together with Delta Smart, can help you maintain a good relationship. This app, which works in tandem with the Delta Smart on-collar dog training device, lets you monitor your pup's activity — or inactivity — and give training corrections while you're home by using the app on your smartphone. Get the data and features you need to be a more attentive pet parent.
Review Your Pup's Activity While You Were Away
Do you use cameras to keep an eye on your dog while you're at work, or do you just wonder what he does all day? With Delta Smart and the Garmin Canine app, you don't have to wonder; when you get home, you'll receive up-to-date stats regarding your pet's daytime activity. Know how active he was, when he was resting and how often he was barking. Any time he triggered a Keep Away Tag, you'll be able to see what sensor in the house he got too close to. And previous remote training completed by you or another family member will be recorded for your review, too.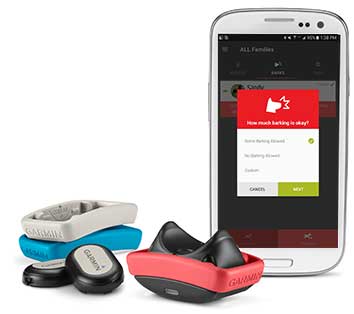 Train Remotely from Your Smartphone
Garmin Canine makes electronic training easy and rewarding. From the app, you can control all corrective actions, including tone, vibration and stimulation, and you can adjust the level of correction. Later, when your training round is over, you can use the app to view a recap of the session.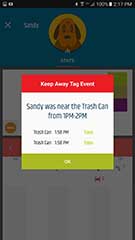 Keep Away Tags
Optional Keep Away Tags can be programmed with Garmin Canine to curb undesired behavior or keep your 4-legged friend away from harm. Configure settings for automatic corrections that will activate when your dog is in close proximity to the tag. For a dog who loves to get into the garbage or for one who needs to keep his nose out of the plants — these sensors let you keep an eye on him when you're not there.
¹Dog Activity tracking accuracy
²When paired with a compatible smartphone