PLAN TO MAKE MEMORIES
With CamperCam 795 sat nav, you'll travel with a built-in dash cam1 to automatically save video of incidents, plus overhead views to help with a smooth arrival at your motorhome park or campsite.
Enjoy the view. The 7″ touchscreen shows your route and includes detailed map updates of Europe.
With CamperCam 795 sat nav, you'll have custom routing2 for the size and weight of your motorhome, plus vivid aerial views to help you with a smooth arrival at your motorhome park or campsite.
Continuously record your drive, and automatically save video of incidents with the built-in dash cam.
Arrival at your campsite has never been easier thanks to BirdsEye Satellite Imagery.
Discover the best spots along your route and learn of recommended activities near your destination.
If it's worth a visit, the preloaded MICHELIN® Green Guide will let you know.
Take an eyewitness on your trip.
BUILT-IN DASH CAM
The integrated camera continually records 1080p HD video with a 140-degree field of view and automatically saves video of incidents. GPS data shows when and where events occurred, and the pre-installed memory card means this sat nav is ready to use.
VIDEO STORAGE
Saved videos are automatically stored securely in the online Vault and can be accessed by using the Garmin Drive™ app on your compatible smartphone. An active connection with Wi-Fi® technology lets you share video clips with others by sending a link and passcode.
FORWARD COLLISION WARNING
To help increase driver awareness, forward collision warnings notify you if you're driving too closely to the vehicle ahead. Certain conditions may impair the warning function.
LANE DEPARTURE WARNING
Enabled by the built-in dash cam, the lane departure warning alerts you if you drift off the road or into oncoming traffic.
VAULT SUBSCRIPTION
Your saved dash cam video clips are stored in the secure online Vault for 24 hours from the time of upload. Garmin also offers extended storage plans via paid subscription.
Get the adventure rolling.
LARGE SAT NAV SCREEN
This easy-to-use 7″ GPS sat nav features a bright high-resolution edge-to-edge touchscreen display so you can easily see important route information.
CUSTOM MOTORHOME ROUTING
CamperCam 795 sat nav considers the size and weight of your motorhome then finds a recommended route2. And you can save profiles for multiple vehicles or trailers.
ROAD WARNINGS
Know of upcoming steep grades, sharp curves, weight limits and more before you get to them. Detailed elevation information helps you prepare for possible steep grades along the route.
BIRDSEYE SATELLITE IMAGERY
See vivid aerial views to help you with a smooth arrival at your motorhome park or campsite.
ROADTRIP ROUTES FEATURE
View suggestions for more adventurous trips or scenic roads.
MOTORHOME PARKS AND SERVICES
Simplify your trip with a preloaded directory of motorhome parks and services from ACSI™, Campercontact™ and Trailer's PARK™, which can be filtered by amenity such as showers, electricity and more.
EASY TRIP PLANNING
Pair with the Garmin Drive™ app to easily import and share routes and share GPX files.
ENVIRONMENTAL ZONE ROUTINE
Get guidance and warning about Environmental Zones on your route.
Go. In the know.
GARMIN VOICE ASSIST
Need directions? Just say the word. The CamperCam 795 sat nav responds to your spoken requests and then navigates to wherever you need to go (voice Assist is available in English, German, Italian, Spanish, Danish, Swedish, Dutch).
WIRELESS UPDATES
Built-in Wi-Fi® connectivity makes it easy to keep your maps and software up to date without using a computer. On-screen cues show when new updates are available.
LIVE TRAFFIC AND WEATHER
When paired with the Garmin Drive app – live traffic helps you avoid delays and find detours. Also view detailed weather forecasts, current conditions, animated radar and more.
LIVE FUEL PRICES
Connect with the Garmin Drive™ app to get updates of real-time fuel prices along your route.
HANDS-FREE CALLING
Built-in Bluetooth® wireless technology lets you sync your compatible smartphone with CamperCam 795 sat nav to make calls without taking your hands off the wheel.
SMART NOTIFICATIONS
When paired with the Garmin Drive app, you'll be able to see text messages and other notifications from your phone displayed on the sat nav's screen.
Load up the fun.
TRAVEL INFORMED
View Tripadvisor traveller ratings for hotels, restaurants and attractions along your route or near your destination. Easily find new shops, restaurants and millions of other popular places with preloaded Foursquare® points of interest.
THE MICHELIN GREEN GUIDE
This preloaded guide features pictures, detailed descriptions and ratings, so you know if the attraction is worth a visit.
TRENDY PLACES FEATURE
Discover the best spots along your route with suggestions for trendy places.
LOCAL SPOTS FEATURE
Find local places to visit and exciting activities to try near your current location with local spot recommendations.
MAP COVERAGE
Your sat nav includes map updates and comes preloaded with full Europe.
WORKS WITH BACKUP CAMERAS
Pair the CamperCam 795 sat nav with our BC™50 or BC™40 wireless backup camera (sold separately) so you can see what's behind you.
CONTROL 12-VOLT ELECTRONICS
Pair with the Garmin PowerSwitch™ digital switch box (sold separately) to easily control your vehicle's 12-volt electronics such as lights, fans and more.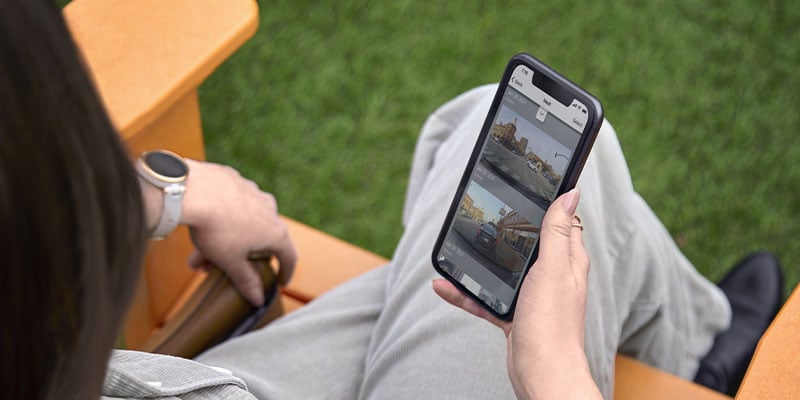 Store recorded videos longer with a Vault subscription.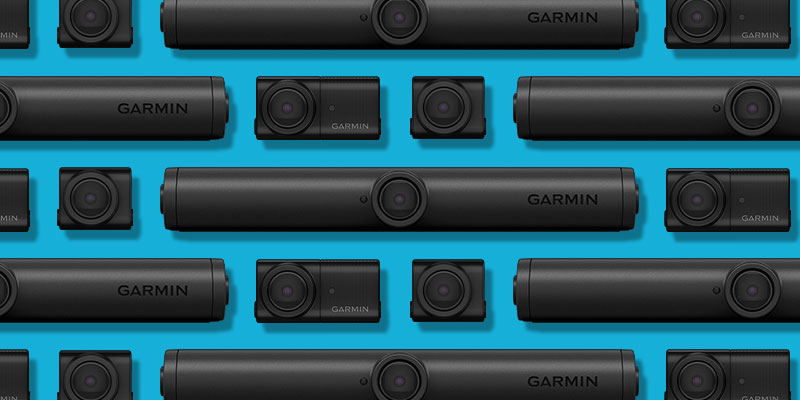 See what's behind your vehicle with a Garmin backup camera.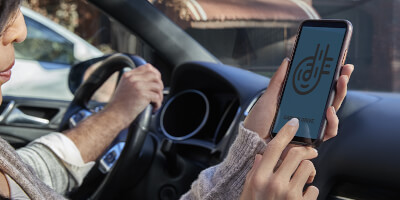 Simplify your drive using the Garmin Drive™ app.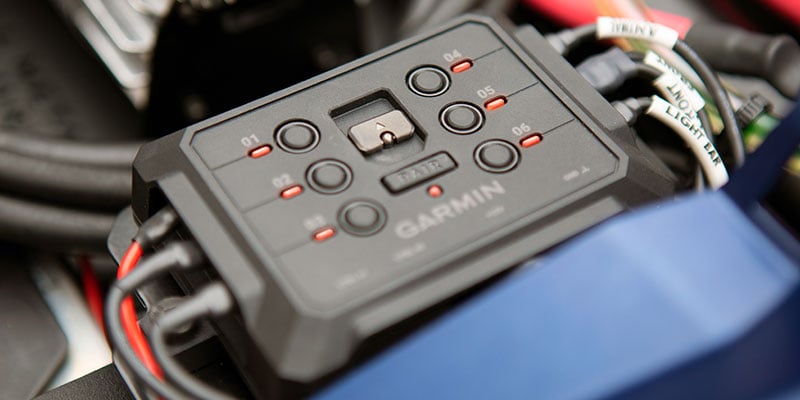 Control your vehicle's accessories with Garmin PowerSwitch™.
1
Some jurisdictions regulate or prohibit use of this camera device. It is your responsibility to know and comply with applicable laws and rights to privacy in jurisdictions where you plan to use this device.
2
Not available in all areas. Entering your Motorhome or trailer profile characteristics does not guarantee your Motorhome's characteristics will be accounted for in all route suggestions. Always defer to all posted road signs and road conditions.
© HERE. All rights reserved. Satellite imagery © 2022 Maxar Technologies (date of satellite imagery may vary). © 2022 TripAdvisor LLC. All rights reserved. Wi-Fi is a registered trademark of the Wi-Fi Alliance. The Bluetooth word mark and logos are registered trademarks owned by Bluetooth SIG, Inc. and any use of such marks by Garmin is under license. Foursquare® is a registered trademark of Foursquare Labs, Inc. foursquare® and the foursquare® logos are registered trademarks of Foursquare Labs, Inc. Copyright © Michelin Travel Partner ©2022 ACSI Publishing B.V. All publishing rights reserved. NKC campercontact data: ©2022 Nederlandse Kampeerauto Club "N.K.C.