Identification of barking and barking advanced abatement technology to reduce the number of unnecessary adjustments
The authorization to correct barking works right out of the box
Bark Odometer counter records the number of barks
Suitable for dogs of different breeds and different length hair
CR2 battery user-replaceable

BarkLimiter the world's first intuitive electronic device that allows control barking, designed by Garmin with the use of proven technology canine Tri-Tronics®. BarkLimiter distinguishes barking from other sounds of a dog barking recognition based on a built-in accelerometer. In addition, our own advanced technology barking correction provides continuous and immediate occurrence of signal correction, the necessary corrections as a result of external noise have been in this device virtually eliminated.
We created BarkLimiter as a product easy to use and ready to work right out of the box, and equipped it with a function Autorise, which aims to automatically adjust to the optimal level of training intensity allowing the elimination of unnecessary barking; any additional preparation. In addition, Bark ™ Odometer tells you the number of times your dog barked during your absence.
Recognition technology barking
BarkLimiter recognizes the sound of barking, the source of which only the vibrations from the throat of the dog.This solution virtually eliminates the risk of corrections that might be caused by scratching or scraping or by other sounds like. Dog barking is near (eg. In a herd dog). BarkLimiter is also designed to recognize the differences in the type of barking. Its purpose is in fact eliminate obsessive or annoying barking, while ignoring the "good" barking. This way the dog can communicate such. Injury or danger is not thereby activating the device.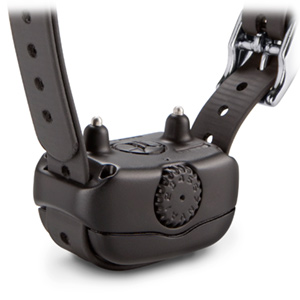 Technology Autorise
BarkLimiter right out of the box is automatically set to run in Autorise. There is no need for any preparation. As a result, the owner of the dog may feel immediate relief from nuisance barking. Autorise starts from the lowest level of correction barking and gradually raises the level until the dog to cease unnecessary barking.
manual configuration
Dog owner, if necessary, also has the ability to switch the operating mode from automatic to manual. Available counter barks, counting their number, can determine the effectiveness of hand-selected level correction.
vibration settings
The dog's owner can configure BarkLimiter so to eliminate barking he used instead of the vibration stimulation.
The small, lightweight, waterproof
BarkLimiter has been designed to provide maximum functionality while maintaining a minimalist form. The compact housing uses electrodes made of stainless steel optimized to work on a dog of any breed and thickness of the hair and easily accessible battery compartment.
replaceable batteries
BarkLimiter uses replaceable CR2 battery which ensures long reaching up to 10 months.